Receive a free quote on your next job
HOT APPLY WATERPROOFING DETAILS
When Should You Use Hot Apply Waterproofing?
Hot fluid-applied asphalt waterproofing can be applied on horizontal or vertical structures. There are numerous construction applications in which it can be utilized in many cases, such as:
Tunnels
Parking Decks
Balcony Decks
Roofs and Vegetative Roofs
Split-slab Applications
Foundation Walls
Plaza Decks
What Materials Are Used For Hot Apply Waterproofing?
This fluid-applied membrane consist of a blend of asphalt and modified rubber polymers containing mineral stabilizers.
What Are The Benefits To Hot Apply?
Benefits:  it eliminates seams, thus reducing potential issues with detailing transitions on systems such as roofs. It drastically reduces the risk of leaks and provides the ability for much more pleasing finishes.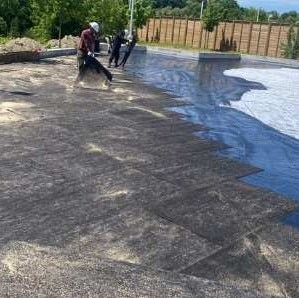 View Our Previous Projects